Discussion Starter
·
#1
·
Here's some data I collected from my Viggen.
The car still doesn't seem to want to run full boost, and the ignition timing is downright disturbing! Definitely no room for "tuning" on 91 octane without some serious hardware modifications!
The intercooler has been "ducted" so that air is forced over it, and the intake system has been heat isolated.
The ambient temperature was 56 degrees, the humidity was 100%, and during the run listed it was sprinking water a little. (Definitely going to have to see what the temps are like on a hot-dry day.) But the fact that full throttle from a stop to around 80 mph only raised intake temps 40 degrees at this temperature was somewhat comforting ... only somewhat.
Bunch of sensors:
Ignition Timing vs. Manifold Abosolute Pressure: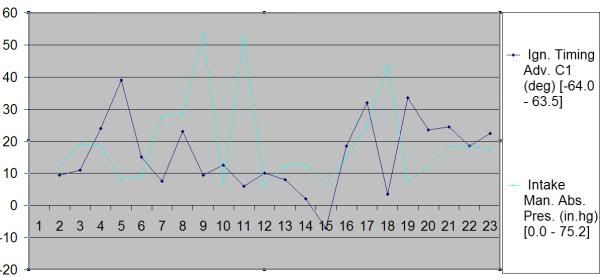 Interesting stuff.
Adrian~