1954 Oldsmobile F-88 Convertible Concept Car
After spending decades as a collection of parts stuffed into wooden crates - the F-88 was reassembled.In 1954 - the F-88 was a Motorama "Dream Car" and was one of only two - or an unconfirmed possible three ever created. The F-88 seen here is literally the only car left of its kind - and was sold to John and Maureen Hendricks at the prestigious Barrett-Jackson Auto Auction in Scottsdale, Arizona for an unbelievable $3,240,000. This acquisition made automotive history and is the "cornerstone" of the Gateway Colorado Automobile Museum in its own special room in a rotating display worthy of the F-88!

The Oldsmobile F-88 is considered to be one of the most significant concept cars ever created by General Motors. As a rule, Concept cars, including design plans and specifications were destroyed, once introduced to the public in shows like GM's Motorama Shows.

The Oldsmobile F-88 was considered superior to the Corvette and Thunderbird of its time. The F-88 boasted a robust V8 engine coupled to a 4 speed hydromatic transmission mounted in a light weight chasis. If featured full power windows and locks and unique forward looking style. The spare tire was hidden in the rear bumper to enhance styling and improve safety while providing easy access. Just one of many design innovations introduced on the Oldsmobile F-88.
Pictures:
(Reminds me of a Corvette)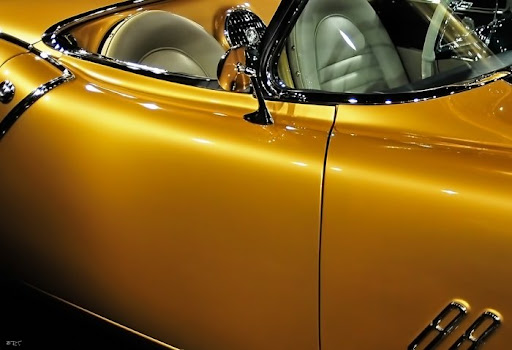 The show officially became known as Motorama when it began to travel around the country in 1953. That year more than 1.4 million visitors saw it; Motorama's opening day in New York drew 45,000 visitors. There was a revue, with orchestra, singers, and dancers. Exhibited at this venue were the Buick Wildcat, Pontiac La Parisienne, Oldsmobile Starfire, Chevrolet Corvette, Cadillac Orleans and Le Mans. More than 1.9 million visitors attended the show in 1954; it started on January 26 in the Waldorf Astoria, New York. On display were the experimental Oldsmobile F88 and Cutlass, Buick Wildcat II, Chevrolet Nomad station wagon, General Motors Firebird XP-21 and Pontiac Bonneville Special, Cadillac El Camino, Cadillac La Espada and Cadillac Park Avenue, all featuring fiberglass bodies.