SOLD
I have a used Taliaferro/Genuinesaab Poly Manual Trans mount for sale. I will upload an actual picture of it if requested - but it looks like this - but dirty since it was used.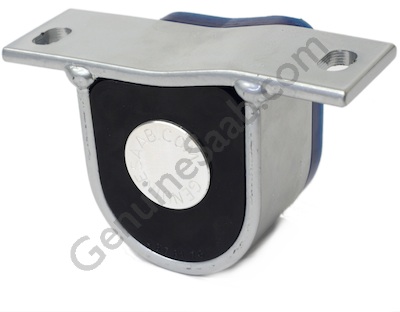 In good shape overall - I have no need for it. List price is $139.40 plus shipping currently from GS.
Asking $85 Shipped
for this one.
Details from:
GenuineSaab.com
Motorsport derived Transmission Mount for NG 900, 9-3 94-02 Manual Gearbox variants. Especially the Viggen and HOT models. Tightens shifter feel. An original Taliaferro design. Helps eliminate mount failures on high output vehicles. Slightly increases vibration in the cabin at idle (more like automatic at idle but not as bad) but keeps it at a reasonable level most people cannot tell. Reduces drivetrain slop giving a much better feel. Urethane insert with custom powdercoated steel housing. Made in house by the Taliaferro gang. For race use we can also do a stage 2 on a custom basis.
Install Guide from GS:
http://www.genuinesaab.com/psi/files/Install Trans Mount.pdf