Discussion Starter
·
#1
·
Thought I'd give it a thread here. A few years ago, my uncle and I were watching Mythbusters at about 4 am on the fourth of July when we got on the subject of classic cars. I said how I thought it would be cool to restore one, and he said he would buy something for me. I didn't think much of it, he has a lot of money, but I didn't think he would actually buy me a car. I casually looked at few cars, a Fairlane and a couple Mustangs, but I was mostly dreaming. Until about a month after we first talked about it, I got a phone call, and all I heard when I answered it was "I bought you a car." I freaked out. he said "Where do you want it? I'm having it delivered to you tomorrow." So I had it brought to my grandpa's service shop where I have done all the work to it. So here is what I have done:
-Tore it apart. Put it on jack stands ripped out the nasty, old, faded, brown carpet, took the seats out, removed all the glass.
-Took the rear brakes off. Fronts were frozen (the only reason it wasn't drivable when I got it) so I cut them off with a torch.
-Replaced leaking carb
-replaced valve cover gaskets
-replaced valve covers
-painted/cleaned the motor
-replaced all brakes
-added power brakes
-removed body molding/trim (fake vents, and chrome trim along the bottom of the doors) and welded up the holes
-removed the bumpers, and grille
-Welded in new floor pans to replace the rusty ones (only place with rust in the whole car!) first time ever welding, and I didn't too bad....actually got compliments from the body/paint guys on it being a first time job!
-New brake lines throughout the car
-resealed fuel tank
-painted wheel wells and floors and trunk with rust resisting paint
That's about all I did to it...it runs great. And ran when my uncle bought it. So my uncle bought me a new interior (Literally everything for the interior) and had it sent off to the body shop to have a COMPLETE realignment of ALL the body panels and tons of little dings and dents fixed and to be painted. Nine months and almost $8000 later I got it back from them. And it's beautiful.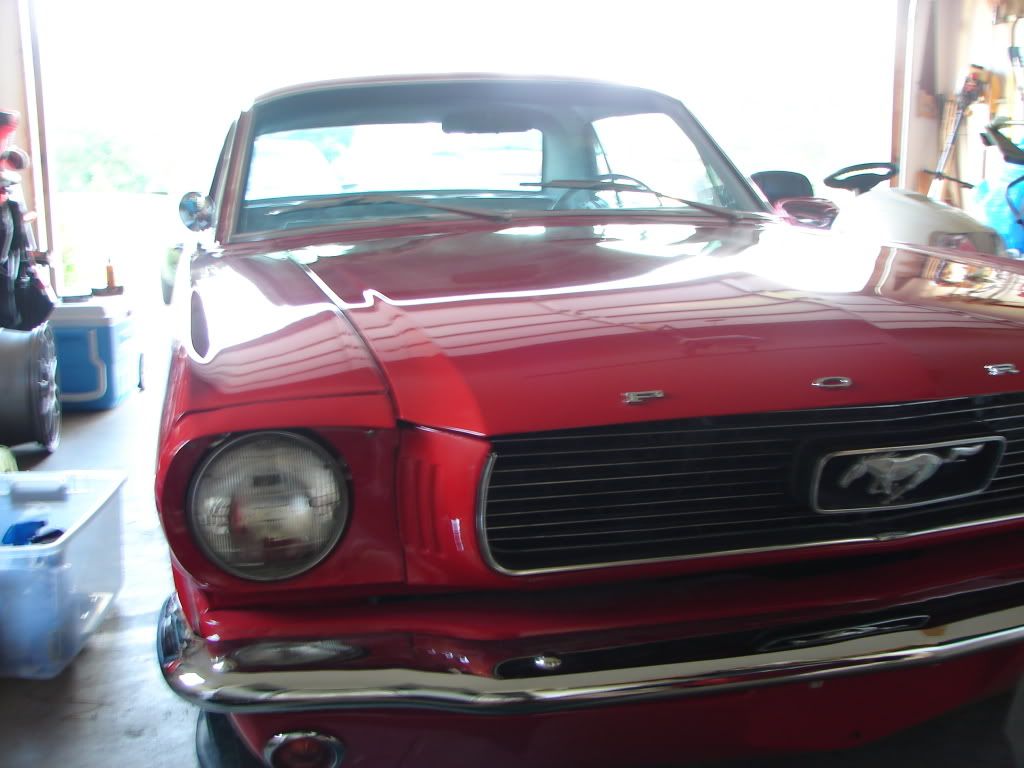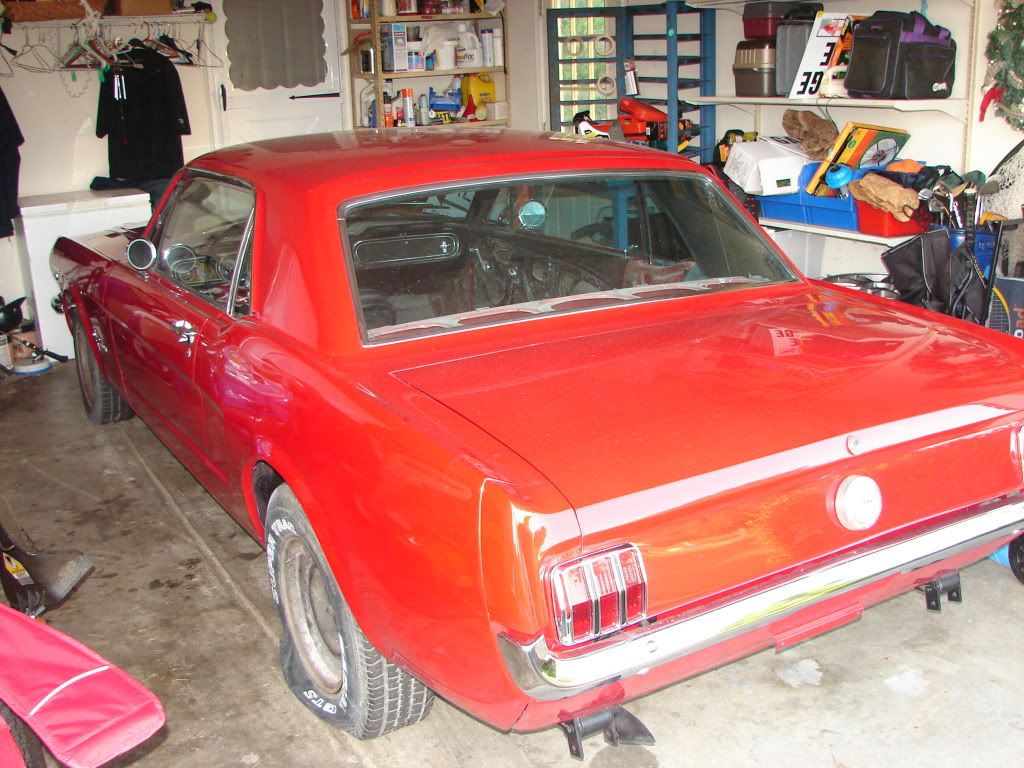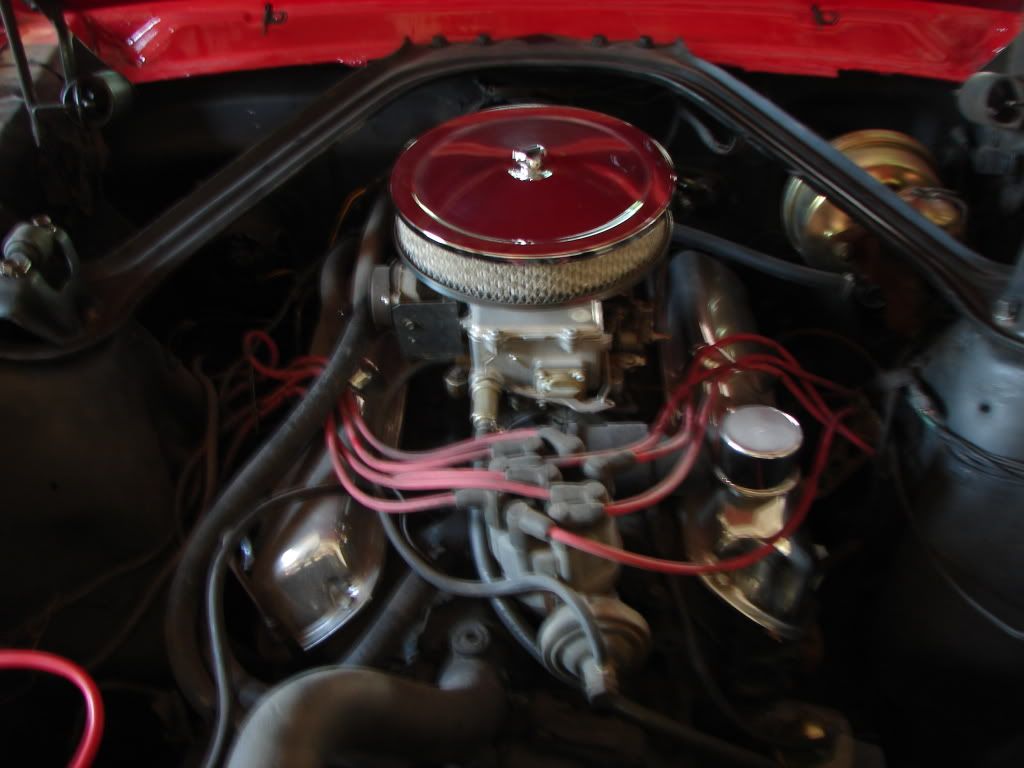 Better than when I got it! lol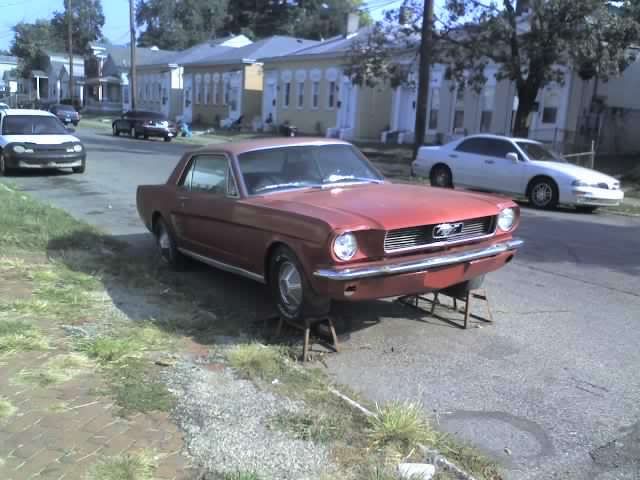 That's where it was sitting when he bought it.
My parents just bought me new rims yesterday for Christmas. These to be exact:
Not a great picture.
I can't wait to get them on! Got a sweet deal on a set of 5 rims (came from a 1967 Mercury Cougar XR7) with brand new Mastercraft tires.
It still needs a bit of suspension work and the interior put in and it will be done.
More pics here:
My 1966 Mustang pictures by jrodigan5 - Photobucket
A HUGE thanks goes out to my uncle for making this happen. It has been such a great experience and so rewarding to see a car come to life. I will keep this thread going with progress and pictures as they come. Comments welcome and appreciated!