After just enjoying the reading of the last one of these, I decided to get your opinions on what my "Black" 1995 is worth. I would love $6K for everything or break it down and LMK.
1995 9K Aero
Albany NY
518-862-2795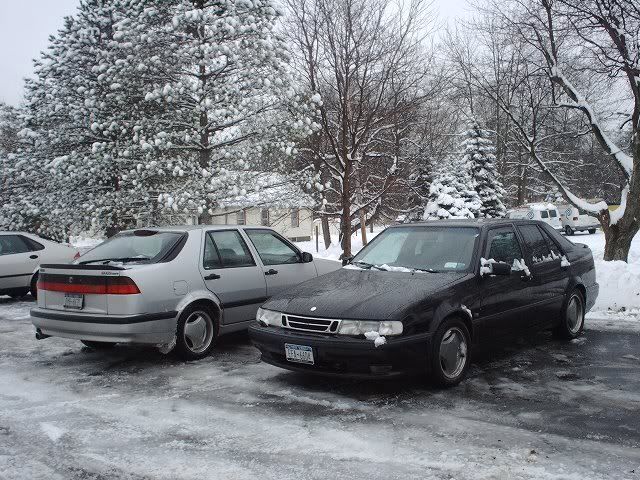 [IMG ]http://morepicstoocome.jpg[ /IMG]
The car is currently in need of some mech work/time that can/will be performed prior to sale. It has a slight "cold" lower end knock (thinking wrist pin as the rod B's are newish) and the differential is on it's last leg. I still run the hell out of her on occasion, with the Ivan Drago mindset. "If he dies, he dies" I got a cell and a flatbed, screw it.
Body has 310kish
Very little rust for a NE car, the RR dog leg has been showing for years. Pics to follow if needed.The hood, both fenders and RR door have been replaced with rust/dent free pieces. The windshield is cracked and some of the black trim is starting to peel/fade. It has a few dings and small scrathes but is a great 10 footer. Both rear shock mounts have been cobbed/fixed to better than stock. Basically you'll be pretty hard pressed to find a cleaner version with over 150K in this area.
140k short block (installed)
Cyl head was planed .020, gskt matched, GS springs, seals and lapped w/stock cams
Freshly rebuilt T3/T4 60-1 "Dinosaur" - TO4E .60 comp housing - Stage I lht shaft w/.48a/r ext housing from 85-89 9k
Gskt matched B202T ext/ B234 intk mans
Full 3" JT (no cat)
ETS intercooler w/stock piping
ARP head n ext man studs
JZW mailbox HX35 tune (yeah, yeah they flow just about the same)
Seimens 630's
3 bar map
Idle & WOT are great but has a studder under consistent load
Walbro 255 (gss 340)
Powerflex Trans/Dog bones
Forge BPV atmpho dumped
Open air 3" AEM intake
A/C and T-body preheat delete
No TCS
She hasn't been on the rollers in a while, nor in her current state so numbers would just be a guess.
120K stock 5 speed tranny (installed)
Sachs 600nm PP
New stock disc (6k miles)
SS clutch line
Good boots and grease
Interior is a good 8 out of 10 (damn dome light wont stay in)
Bilstein HD's frt/rear
Stock springs
SAS frt/rear
Brembo blanks
Axxis frt - Oem rear
Strut bar
Wheels, I got some - your choice 1 or all
18" Saab tuners (no tires)
16" Borbet
Aero's
Super Aero's
Super CS's
W/wo 10 year old stereo
Alpine CDA-9851
Alpine V12 4ch
Punch 200 2ch
Stock frt
Sony 6x9's
Pair of 12" Kickers
4ga, dist blocks, 1 farad cap
Saab trailer hitch w/wiring
Clear corners
10% tint rear doors & hatch
Frt window visors
Extras:
T5suite stageIII w/stock 431's and stock 2.5bar map
Good TDO4/Manifold and lines (20 minute reinstall)
Extra JT downpipe
Extra 140K 5speed trans
IDK, as you can tell I was pretty bored at work today and I'm sure I'm forgetting quite a bit. You can bash, stomp and piss all over this thread if you would like. Just curious as to what people think it's worth, and no I'm not getting out of Saab as I still have way to many.
Thanks for lookin