Discussion Starter
·
#1
·
Story time. I was looking around on the local FB marketplace and stumbled on this 1992 Saab 900. It looked like it had been in the woods for a while. Non running, had a little front end damage, and pretty rough looking in the pictures. They wanted $500 or something. I blew it off and forgot about it. A week or 2 later, FB notified me of the ad again and that the seller had dropped the price enough to peak my interest.
After talking to the seller, the car had been a part of a package deal with another that he bought and he just didn't want it. He tried to jump it and it just clicked and he never did anything else. He was going to scrap it unless someone bought it soon. If offered it to me for $300 over the phone without my prompting and seeing that it came with a set of SPG wheels I figured I couldn't go wrong.
Upon arrival, The car was as-described, but when I got to looking through the paperwork laying on the seat inside, I noticed that all the receipts and records were from California. I took a look underneath and realized that there was no rust.. NONE!! Even around the front suspension mounting points, I couldn't see anything!
So I quickly paid the man and loaded it up. Now I have a red C900 5 speed n/a sitting in the driveway that I was going to part out and scrap, but in all reality has a nicer body than the C900 that I've been working on restoring. and now I'm very conflicted about what I want to do with it.
Here are the options I'm bouncing around in my head:
- I'll spend a little time with it and see if I can get it running and driving. If there is nothing significant wrong, then maybe I'll clean it up and put it on the road as a daily, and/or flip/sell it as a running car.
If there is something severely wrong with the drivetrain, then one of the next 2 things may happen:
-I may tear it all apart, check the floorboards out, strip it all down, and re-shell my current C900 project into this body. There is some damage to the front fenders, but I'm thinking that would be easier to handle than the rust repairs that are needed with mine. My project wouldn't be a true 1986 anymore, but it's not a real SPG anyways, so I'm not sure how much that all matters..
-The other option is that if there is no hope for the drivetrain, I go ahead with my initial plan of parting it out and scrapping the shell. I would hate to do this because they are not making these anymore and clean bodies are impossible to find.. I guess we'll see how it goes.
Here are some pictures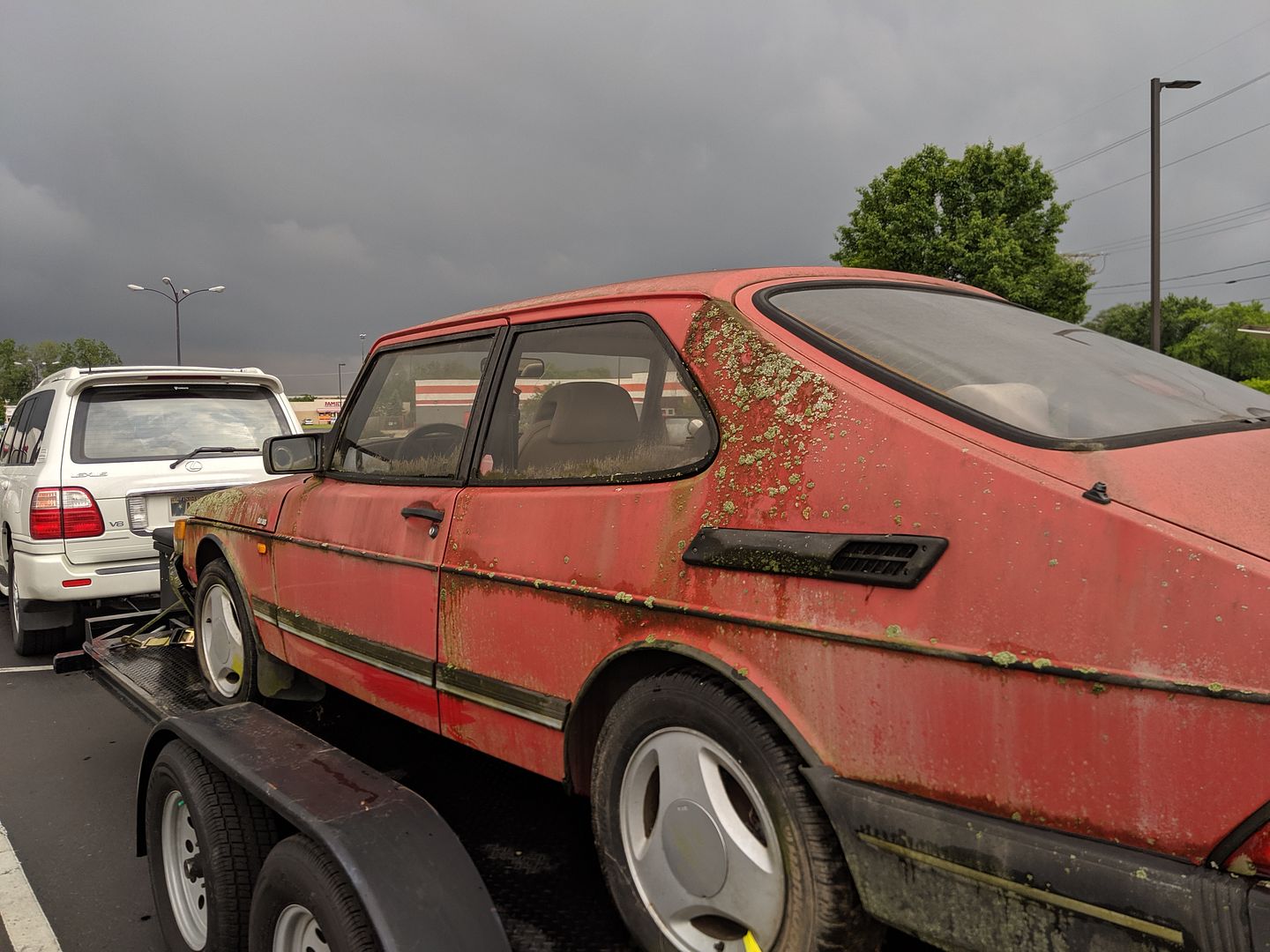 :saab