Up for sale is a set of 17"x7" Klingons from a 2000 9-5 Aero.
I bought these a while back, intending to refinish them and run them on my OG9-3. I scuffed the finish with sandpaper, filled some scratches and primed them, but then life got in the way and I ended up with a different set of 17s on my car.
1 & 2: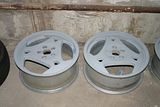 3 & 4:
Asking $150 OBO, local pickup ONLY from zip code 02135.
PM me for details, stop by to see them and make me an offer.
**Important note: two of the wheels have a bend in the outer lip where the tire bead would seat. I don't know if this is a problem because I never had tires mounted, so you might find that they need to be straightened. There is a place near me (
Rim and Wheel Works
) that can inspect and straighten them, but that's up to you to arrange.
Bend on #3:
Bend on #4: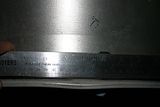 AFAIK, the other two are straight, so keep in mind that all those ones need is paint.