It was hanging wierd and swaying back and forth. The hangers were messed up.
Stock downpipe
center resonator removed
magnaflow round straight thru design
The first vid is just driving away. You can hear the DV/turbo and exhuast nioses...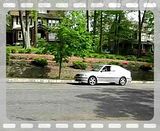 The second vid was just to demonstrate how much it pops. I just downshifted and rode it out for a little, so listen for the popping when the car slows down.