The story continues....
After all was done ( strypping ), the bodymen ( i don´t know the translation to this job
) stretched the cat into his place.
The good thing about this story was a friend of owr club has his car tottaled... an ambulance hit him hard on the rear... So the hole front was good... to me...
The Bonus: It was an Aero model...
So for 400 dls i Bought the hole front and some other pieces to fix my car...
When it came back from the bodymen was like this: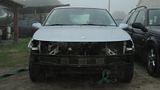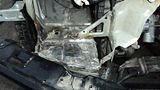 And before i knew it i had the bumper installed just to get an glimpse...
A few more days to fix it all up and the car is like this...
Here still with the 16" wheels in front ( the others i had to put tyres in it...
In this pic i´ll show you my paint job with a can in the lower part of the rear bumper ( don´t forget this is an lpt disguised as an Aero lolol )
And here is my friend´s Wagon in nice company....
I still have to take care of some details... give it a good wash, some polish and good to make a few miles...
The car have to make a big revision so i´ll have to pull the oil pan to check for sludje(?) and instal the PCV kit i´ve ordered...
ALL done in 3 weeks
I think it looks cool...
Now i have a dillema:
Go in my 9000R ( all tuned up just the way i like it ) or go with the Fake lpt ( lolol ) cruising to work???
lolol
Tell me your thoughts...