THE PROJECT - IT'S STILL ALIVE!!!!
Just finished up a bunch of work and I have (I think) finally all the parts to get my SPG kit fixed up and put on this summer!
I thought I might have a coolant leak and the car was running a little too hot - I had used fluorescent coolant dye but after going over the whole engine bay in the dark with a UV light, the only glowing coolant to be found was in the reservoir! Hmmm...
Then, on a hot, hot day - it finally happened. The coolant boiled over and I almost had a serious disaster. Thankfully I was just down my street from my house.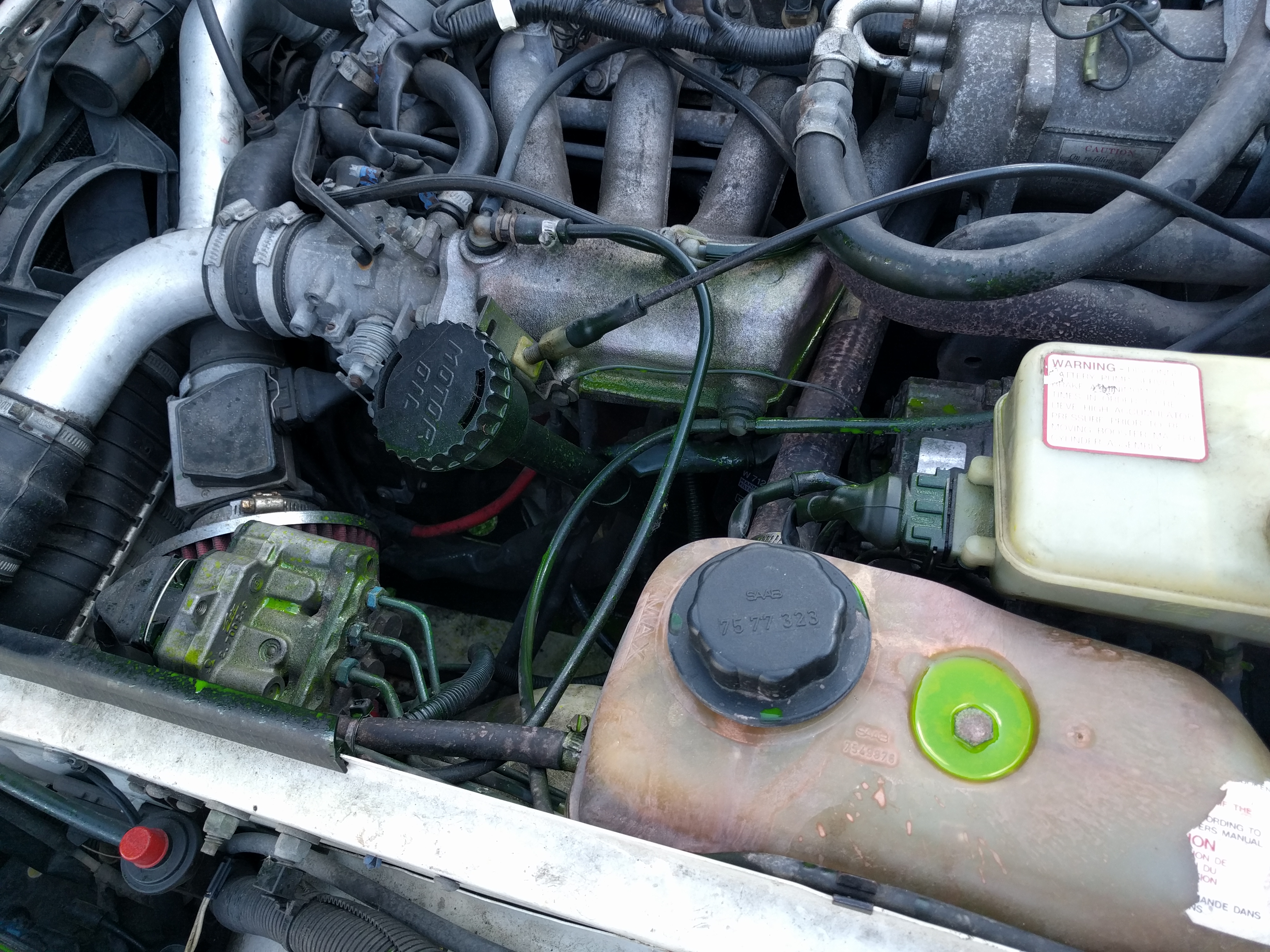 I found the #6 fuse for the radiator cooling fan was blown - easy fix, right? Well it actually was a symptom of a larger problem.
Thanks to turbocon86 for the tip - I used a piece of wire to jump the connections at the radiator thermoswitch to test the fans - they both fired up although the car would shake when they started like it was a serious drain on the electrical system. So I suspected the thermoswitch in the radiator, since the fans worked.
But after trying this test several more times, I noticed the #6 fuse would blow again within 30 seconds or less, sometimes as soon as the fans started! Relays seemed to be working just fine, so at this point, I was pretty sure that the thermoswitch was OK but the fans themselves might be a problem...
So I tried to spin the fan blades by hand (disconnect your battery first, just in case - if you like having fingers!) and the left/driver radiator fan was definitely a little stiff, didn't spin too freely... but the right one took some serious force to make it turn, and it did not spin freely AT ALL. So the power needed to make it move must have been too much, blowing the fuse. Radiator can't cool enough with no fans, and BOILLLLLLL!
A HUGE HUGE HUGE thanks to turbocon86 for the diagnostic tips and for a spare set of fans!!!
Could not have done this without the tips and parts!
So after much cursing, and drilling out rusty, stripped screws and rounded off bolts... I finally get the fans out, only to find that behind a fan the radiator was a little crushed and had a big, fluorescent green spot. And it was wet.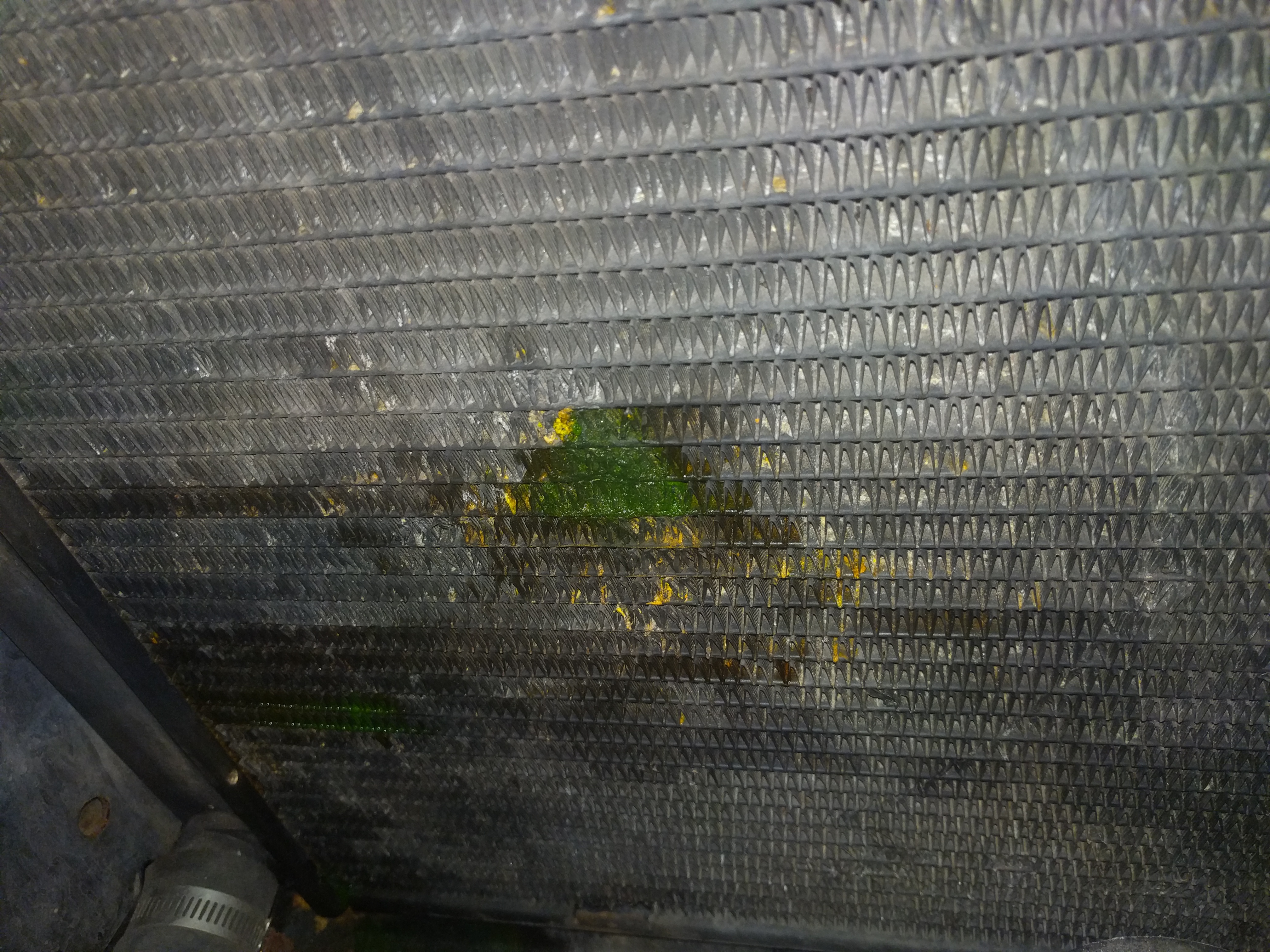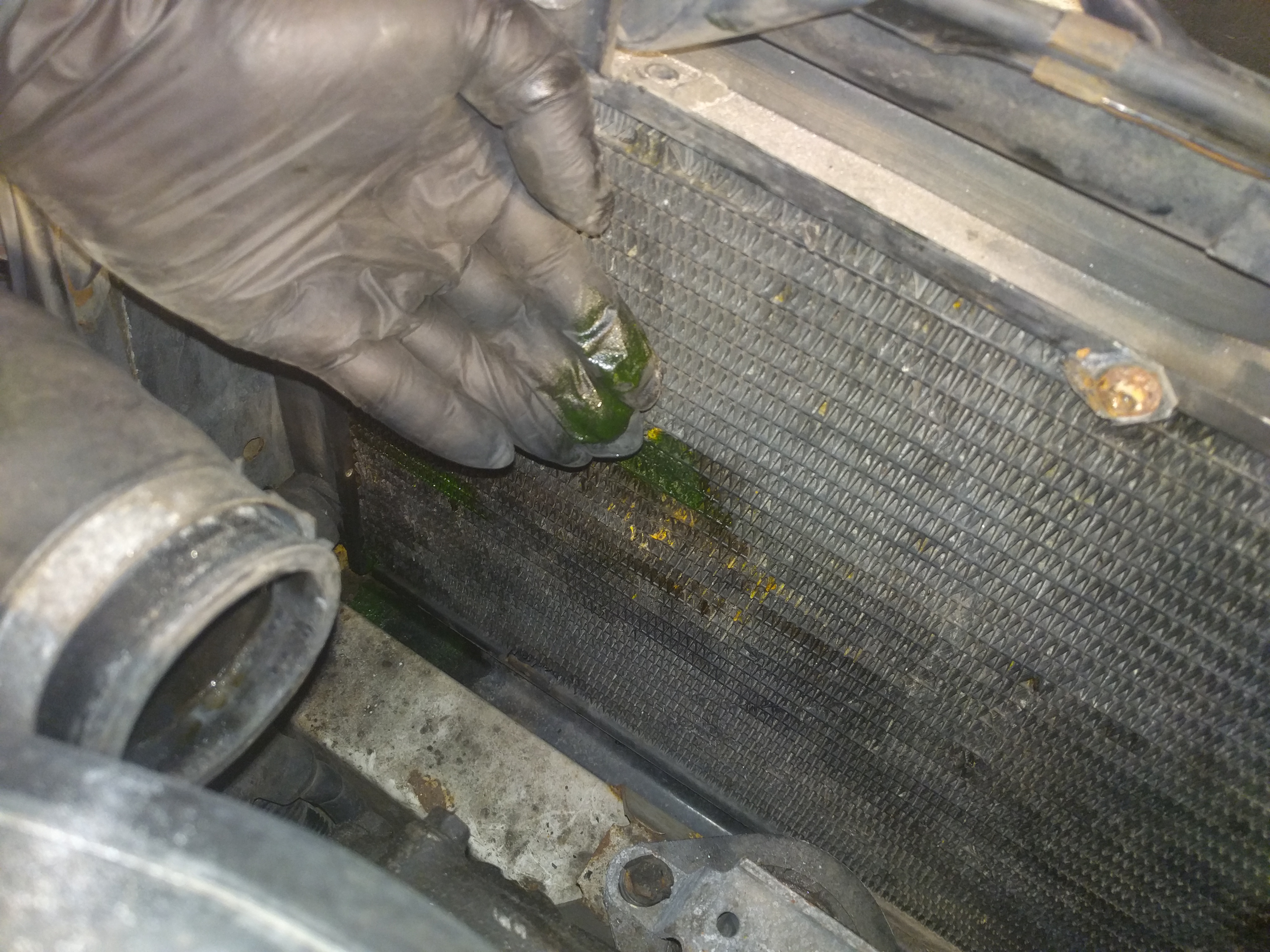 More cursing, back to the local Saab shop to get a radiator and some other goodies. More trips to the hardware store after more rusty bolts, and a broken screw extractor and snapped drill bits...
Finally - a bit more swearing, beer, and cuts and bruises on my arms and hands - I now have:
a shiny, brand new radiator with brand new bolts/nuts etc
beautiful, free-spinning used cooling fans, with brand new bolts, washers etc
some brand new coolant hoses
some new hose clamps
a brand new thermoswitch
some new fuses
new thermostat
cleaned up t-stat housing (it was nasty, trust me)
removed the coolant reservoir and cleaned it out, looks fantastic!
removed a nasty mouse nest found under the coolant reservoir, yuck!
and of course, brand new coolant
deleted the noise suppressing capacitor on the ignition coil, as I never listen to AM radio and it looked rusty and quite suspect, might even have something to do with a mysterious battery drain I have been dealing with.