I know you guys carry the complete assembly for the front strut assemblies. which is awesome, and not bad at $275 for an assembly.
part numbers 72349413C,72349405C
But Pro Parts Sweden also sells just the legs, with no strut, no spring, no strut bearing, and no wheel bearing.
part numbers 72349413,72349405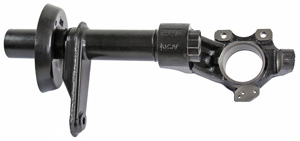 I emailed your customer service and got a response from a John, he told me that if I wanted just the leg itself it was going to be almost $300 each.
why in the world would it cost 10% more money for 60% less parts?
this doesn't make sense. I don't want to use the stock springs or struts. I want to put together new strut assemblies with lowering springs and Bilstein struts.